Out of the deep endA Pittsburgh Foundation donor group funds lifelines to youth caught in the juvenile justice system.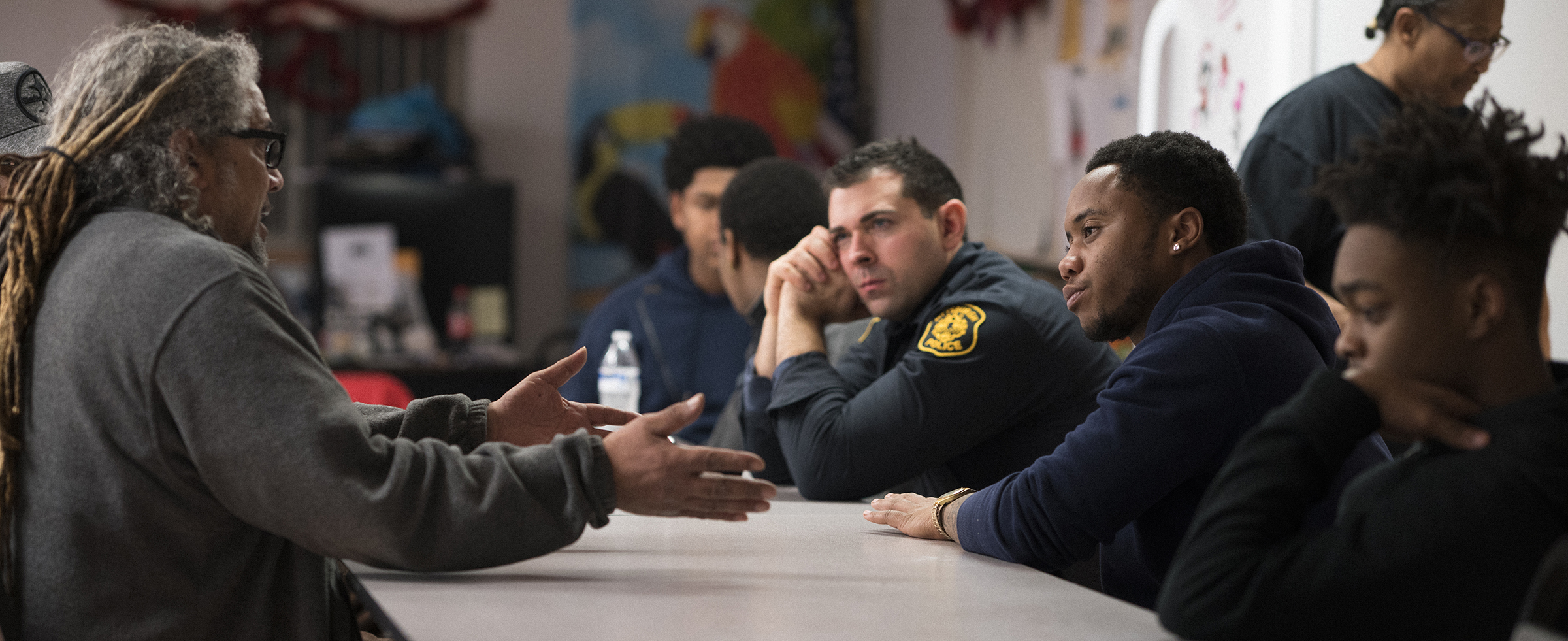 HE SHOPLIFTS A CAN OF SODA AND SOME CHEESE CRACKERS — perhaps because there wasn't any food at home that morning.
Or, she's pregnant and suspended from school; or he's facing a court date and possible time in a detention center; or she's dealing with an abusive boyfriend and fighting with a parent at home.
These are all the backstories played out repeatedly among a mostly invisible population in Pittsburgh: young people ordered into the juvenile justice system, or close to it. They may not be in a detention center yet, but when they are fined by a court for a minor infraction and can't afford to pay, they land in the purgatory of juvenile probation.
"These are kids who have had a small brush with the law. They just need guidance, direction and consistency," says Richard Carrington, head of Voices Against Violence, a Beltzhoover-based program serving youth across the city.
Carrington's program was one of three selected for a $25,000 grant in January by a group of 15 members of The Pittsburgh Foundation's Juvenile Justice Impact Giving Circle. The group wanted to figure out how best to pull this population, ranging in age from 12 to 18, back from the precipice. 
These are kids who have had a small brush with the law. They just need guidance, direction and consistency.
RICHARD CARRINGTON, Voices Against Violence
Giving Circle members met with experts, community activists and young people familiar with the juvenile justice system as part of a four-month process. The process is designed to transform donors into funders, "to teach them to think like a funder," says Kelly Uranker, direc­tor of the Foundation's Center for Philanthropy. This was the eighth Giving Circle presented by the Foundation since 2013. To date, the Circle members and the Foundation have together awarded $646,000 in funding to nonprofits in the fields of education, Alzheimer's disease research, clean air advocacy and homeless children.
For the Circle, the Foundation invited ten nonprofit programs to make presentations and chose three to receive funding. Each donor pledged $2,500, a sum that would be matched by the Foundation, for a total of $75,000.
In addition to Voices Against Violence, Gwen's Girls, founded by the late police commander Gwendolyn Elliott and now run by her daughter, Dr. Kathi Elliott, has received a grant. Also receiving funding is a new legal assistance program at Duquesne University. At Duquesne, Tiffany Sizemore-Thompson runs two clinics — the Juvenile Defender Law Clinic and the Education Law Clinic — that deal with school-related disputes over due process and special education.
The Circle's $25,000 grant will extend walk-in hours and fund additional staffing at both clinics, while helping to pay seemingly minor costs that can loom large in a young person's life, says Sizemore-Thompson. 
"My client got into a scuffle with another young man in his school and broke his glasses," she says. "All the father wanted was for my client to pay $69 for new glasses, saying he knew his son was at fault, too. But my client didn't have the money to pay, so the school had to refer the case to the police."
Fortunately, the boy's family called Sizemore-Thompson, who paid for the glasses and had a probation officer agree to 60 days of monitoring and, if the boy stayed out of trouble, the expunging of his record.
3,328
Number of youth referrals in 2015 to the Allegheny County Office of Juvenile Probation for offenses that include possession of drugs, theft or failure to pay court fines.
972
Young people placed in juvenile probation in secured detention centers.
704
Young people in electric home monitoring detention.
11x
More likely that black girls will be referred to juvenile court than white girls.
"These are what we call the 'shallow end' kids who've had limited contact with the criminal justice system," she says. "But even those in the deep end who are incarcerated for violent felonies initially entered the system for things that were not actually that serious."
Gwen's Girls provides shelter and counseling for girls and young women who've tangled with the law. As they move forward, the nonprofit's goal is to help girls achieve higher education or long-term employment. The centers also provide after-school programs that include tutoring, job training, health-and-wellness activities, and counseling support to deal with serious issues such as sexual trauma, bullying, body image, dating violence and family conflicts. At any given time, about 100 girls move through three Gwen's Girls centers on the North Side, and in Clairton and Penn Hills.
Gwen's Girls also runs a 15-bed residential facility on the North Side, where girls who are pregnant or already young mothers can stay along with their babies. That facility also serves a few girls who are in the care of Allegheny County's Department of Children, Youth and Families, but who are also delinquent and have been referred there by a juvenile probation officer.
"Instead of going to Shuman [Allegheny County's juvenile detention center] they come to us," Elliott says, adding that the grant money will fund an in-house therapist to provide more intensive one-on-one support in addition to group therapy. On average, the girls who are pregnant or parenting stay for about six months while the probation department creates a tran­sition plan, but, too often, "there's no follow-up or contact and the case is closed," says Elliott. Now, the grant money will allow a care manager physician to maintain a database that tracks the girls' progress after they leave.
"The girls I worry about are 17 and 18. They don't have the resources or a family to support them. We want to make sure that, wherever they are, they are kept from going into the criminal justice system," she says.
That's also the central goal of Voices Against Violence, whose director, Richard Carrington, runs a restorative justice program serving 70 young people, half of whom are court-referred. The other half are walk-ins. They spend eight hours a week performing community service projects and six hours a week in classes ranging from academic tutoring to cooking.
The grant will fund sorely needed bus passes so that young people can get to job interviews, school and work, while also providing meals for kids "when their version of dinner is ramen noodles," Carrington says.
For him, "restorative justice" should not center solely on the traditional community service model "of sweeping out church pews," but also learning from authority figures, mentors and therapists meaningful life skills like cooking, budgeting, planning a career. 
"These kids need someone consistently in their lives, and involved in their daily activities," Carrington says, recalling his earlier days volunteering at local schools where he would be "there at the beginning of the day when they got off the bus and at the end of the day to calm them down."
And he can look back on some success stories, including one involving the arrest of a 10-year-old boy.
"He was charged with a felony after assault­ing a police officer who was trying to remove his mother from their house," Carrington says. "One of the things I've tried to teach our kids is to not let anyone lay a hand on their mother or any female in the family, because domestic violence was not the way to go." 
In this instance, Carrington went to the police, explained what had happened and was able to persuade authorities to drop the charges. Because that kid didn't "go over the fence" into the juvenile justice system, as Carrington put it, this young man ended up becoming a college graduate and a banking executive.
"The thing to remember is that any kid could become the next surgeon, the next judge or find the cure for cancer, if they're given the opportunity to meet their potential," Carrington says. "But we don't know the potential of what's inside of them until we pull them back over the fence and see them through." 
Original story appeared in Forum Quarterly - Spring 2017