Building community by empowering and educating voters Maryn Formley works to engage her community through voter education, training and outreach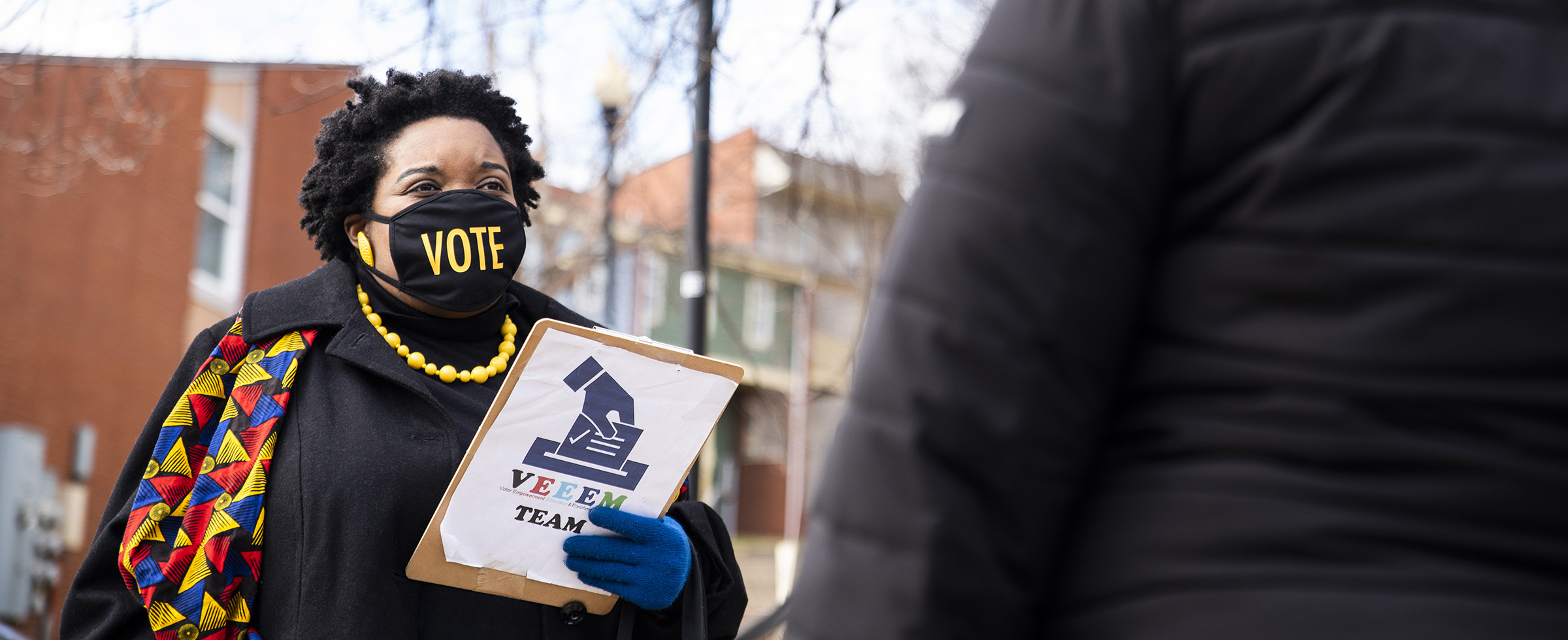 When Maryn Formley's pastor asked her to volunteer on election day in 2017, she was happy to help. She didn't realize that this day of service would transform her life. One of her pastors, Rev. Dr. John C. Welch, was running for mayor of the City of Pittsburgh that year. Rev. Welch's candidacy represented the possibility of a Black man at the helm of her city for the first time. As a Black woman, Formley understood that, for Black and Brown people, a lack of political representation can lead to apathy about voting and increase the feeling that votes don't matter.  
Her experiences canvassing in Rev. Welch's neighborhood of Homewood sparked her to found an organization focused on voter engagement.   
"The things that I heard, experienced and observed with my own eyes are what got into my spirit and would not let me rest," she said. "Seeing participation at the polls dry up at 4:30 p.m. and knowing that nobody else was going to come was bugging me."  
Formley started to envision an organization that would help empower the community to see that every vote is important. She felt that existing organizations that had encouraged voter turnout for the past several years were not getting through to some constituents, particularly over social media, and motivating them to vote, but working in voter engagement wasn't part of her plan. She was already working full-time for the county and pursuing her master's degree. She decided to pray on it. 
"My church went to revival week and the sermons preached each night spoke to me. On that Sunday, it felt like the preacher spoke directly to me," said Formley. After the service, she consulted with her pastor. "That was when the Voter Empowerment, Education and Enrichment Movement (VEEEM) was born."  
Pastor B. De Neice Welch, Ph.D., who is married to Rev. Dr. Welch, helped guide Formley's thinking about recruiting board members and clarifying a mission and a vision for the organization. VEEEM is now a faith-based nonprofit with a mission of increasing voter turnout in Allegheny County, especially in underserved communities with lower voter turnout rates. Through education and outreach efforts, VEEEM seeks to strengthen community participation in decision making and engage potential voters in local, state and national elections.  
VEEEM began by partnering with Baptist Temple Church in Homewood, where Rev. Rodney Adam Lyde provided Formley and the VEEEM board with a location where they could meet, build their network, and connect with the community. In January 2020, VEEEM moved its meetings to the Community Engagement Center run by the University of Pittsburgh, where it could reach more people across multiple neighborhoods.  
In a typical election season, VEEEM would host three meetings before the election and one after. The first meeting focuses on voter empowerment and why votes matter. The second addresses voter education and the issues most relevant to the community. The third is typically a meet-the-candidates session. After the election, the group meets about enrichment, the power of voting and how next year's sessions could be better.  
That level of engagement costs money. During VEEEM's first year, all funding came from board members who paid all expenses, such as food, photocopies and social media ads. In 2019, VEEEM applied to The Pittsburgh Foundation's Social Justice Fund and was awarded $20,000. With those funds, VEEEM hired Nice2Media LLC to manage social media in an effort to increase engagement. In 2020, VEEEM hired canvassers and joined Pennsylvania Voice, an organization that aims to build an inclusive democracy by partnering with organizations to expand the power of communities of color. 
Then came 2020. With a presidential election taking place, it promised to be the biggest year yet for the organization. VEEEM held its first two meetings before COVID-19 restrictions were put in place. Formley and her board rethought everything. They organized a "Zoomapalooza" during the presidential primaries and invited all candidates in the county to meet its constituents on the virtual platform. From September through election day, the organization hosted weekly Virtual Voter Empowerment Mondays where attendees would watch videos and participate in the virtual meet the candidate sessions and interviews.  
In the weeks leading up to the election, VEEEM hired more canvassers and worked with social media experts to get out the vote.  
The goup's efforts are paying off. Since 2017, voter turnout in the 13th Ward, which includes Homewood and parts of the East Hills, increased from 17% to 58% for the general election.    
"Crazy! Amazing and crazy," is how Formley describes her experiences organizing with VEEEM. "My mind is blown and really grateful for every single experience." 
Since the election, Formley and her team have continued to learn, hosting Facebook live meetings every other week with experts and constitutional scholars on topics such as how the electoral college functions and what to do if electoral vote certification was disputed. They are also thinking about representation.  
"Turnout in Allegheny County during a non-presidential election tends to be around 30%. If 70% of registered voters are not voting, we cannot exclusively focus on voter registration," she says. "We have to figure out what the barriers are, especially in communities of color, and address them." 
To learn more about Voter Empowerment, Education and Enrichment Movement visit its website.  
 # # #