Civic leader Lisa Schroeder named Foundation president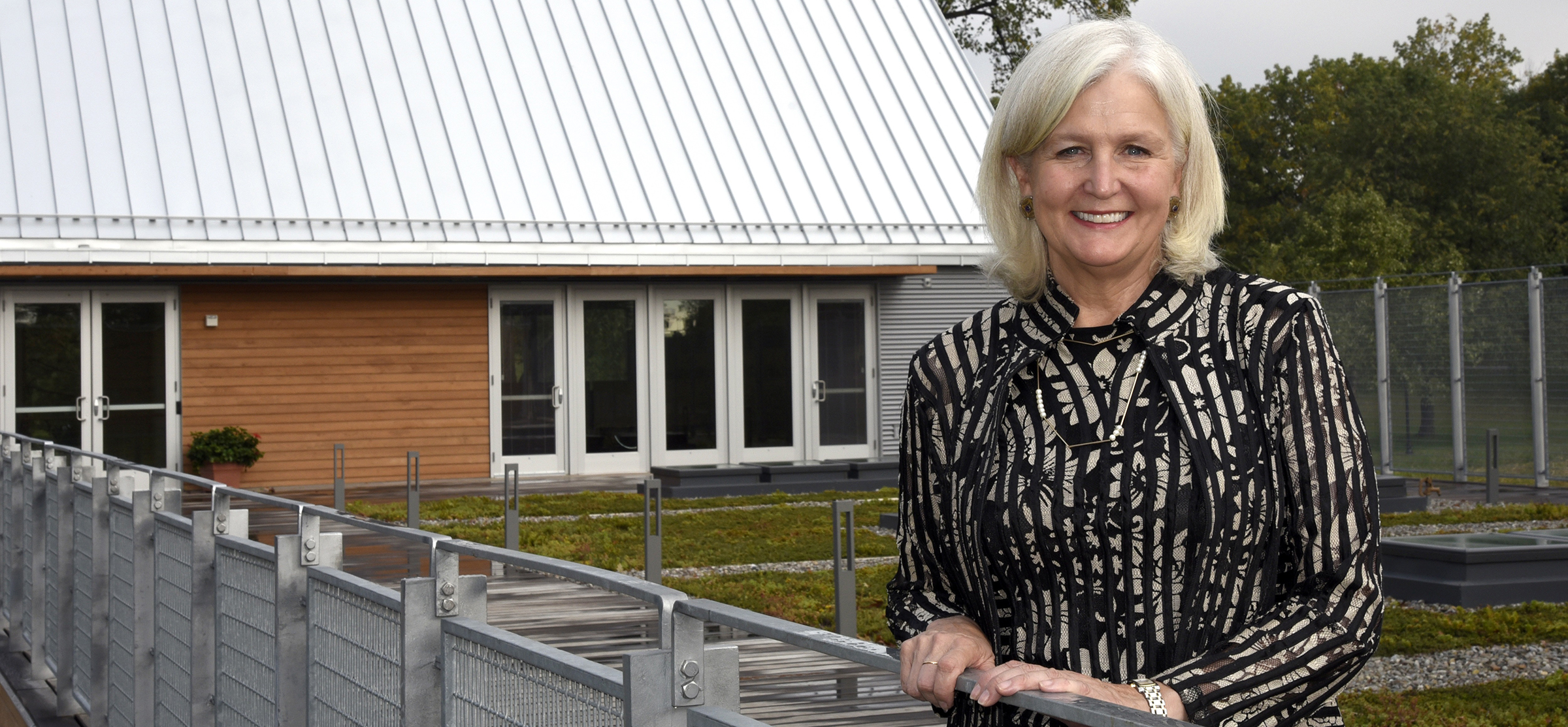 A record of turning nonprofits into transformative forces for community good
PITTSBURGH, Feb. 11, 2019 – The Pittsburgh Foundation's Board of Directors has selected Lisa M. Schroeder, a nonprofit executive with a distinguished record of accomplishing social change in this city and in Baltimore, as the sixth president of the region's nearly 75-year-old community philanthropy. In both places, Schroeder has earned a reputation for turning place-centered organizations into powerful movements for quality-of-life improvement.
She is the first woman to lead the organization and will succeed Maxwell King, who will be retiring at the end of this summer after a five-year term.
In announcing the appointment today, Board Chair Dr. Edith Shapira cited Schroeder's deep understanding of Pittsburgh's culture and "her remarkable talent for bringing together stakeholders across a wide range of business, ideological and political interests to benefit the entire community" as key factors that made her the top candidate for the Selection Committee.
"We had the incredibly difficult task of finding someone who could match the managerial expertise, the creative thinking and the deep well of relationships that Max has brought to the position," said Dr. Shapira, "and we are beside ourselves at the good fortune of finding Lisa."
In its unanimous approval of Schroeder's appointment at a special meeting Friday, the 17-member Board drew on one its own from past membership ranks. Schroeder served as a director from 2008 through 2011.
From 2002 until 2015, Schroeder led Riverlife, a public-private partnership established in 1999 to guide and advocate for redevelopment of Pittsburgh's riverfronts. She was widely praised for her achievements at the organization. She left to return to hometown Baltimore to become president and CEO of the Parks & People Foundation, which is dedicated to generating more resources and greater appreciation by residents for their city parks. She was the first CEO to follow the founder and president who had been leading the organization for 20 years.
During her Riverlife tenure, her leadership was key in helping Pittsburgh transform from one of the most polluted regions in the country to become a star in the national green cities movement. Nearly 80 percent of the ambitious vision known as Three Rivers Park was completed, with 13 miles of riverfront trails, 850 acres of public space and a $128.8 million investment in the riverfront system. Overall improvements to the city's riverfronts since the organization's 1999 launch have resulted in an additional $4.1 billion in development adjacent to the waterfronts.
Among her many accomplishments as CEO of Parks & People, Schroeder completed a $14 million capital campaign to construct a nine-acre headquarters campus on what had been derelict city property; led a $4 million investment in greening projects throughout Baltimore to reduce contaminated storm runoff; created the "Every Kid Deserves a Park" program to construct new parks in city neighborhoods struggling from decades of disinvestment; and launched a waterfront park plan to connect 22 neighborhoods along 11 miles of the Patapsco River.
In a statement issued today, Parks and People Foundation Board of Directors Chair Matthew Kostmayer said: "the people of Baltimore have benefited tremendously from Lisa's talent and vision. Under her leadership, the Parks and People Foundation has continued to build on the record of excellence and service to our community that it has shown since its founding," he said. "While we are sorry to see her go, we recognize what an outstanding opportunity this represents for a professional and leader of Lisa's caliber."
Schroeder said that while she loved the work she was doing at Parks and People, the Pittsburgh Foundation position presented a rare leadership opportunity. "I was honored just to be in the running as a candidate for president of one of the most effective and caring community foundations in the country," said Schroeder. "Now, I am humbled beyond words at Board members' trust and confidence in me through this appointment. I intend to make them proud of their decision."
Schroeder said the position is a coveted one in philanthropy because of what the staff and Board have accomplished under King's leadership. She cited the record-setting growth in donors, the grant-making strategies through 100 Percent Pittsburgh, the organizing principle focused on lifting residents in poverty to participate in the region's economy, and the foundation's reputation for moral leadership.
"It is awe-inspiring to be following Max King into this position," she said. "His accomplishments in Pittsburgh philanthropy and in the field nationally are legendary, and he was a visionary, mentor and a guide for translating public dreams into action, and ultimately, into reality during my years at Riverlife."
Dr. Shapira said Schroeder shares King's conviction that the head of a community foundation must stand out as a strong civic leader, especially in representing those at the community's margins who have not benefitted from the region's prosperity. Another shared leadership trait that impressed the Committee, Dr. Shapira said, is Schroeder's commitment to developing a culture of diversity and inclusion in the workplace and across the larger community.
In her first month at Parks & People, Schroeder experienced violent protests on the organization's property – part of the public outcry over the death of a young black man, Freddie Gray, from a spinal cord injury while in police custody. Thrust into the middle of an emerging, citywide crisis, she developed a new organizational principle "Unite Baltimore Through Parks," which concentrates investments in West and East Baltimore neighborhoods to serve families with incomes below $25,000.
As head of the Pittsburgh-based Heinz Endowments, King was one of Riverlife's founders and served as Board chair when Schroeder was hired as president. "From the very beginning of Lisa's tenure in Pittsburgh through her recent work accomplishing so many wonderful things in Baltimore, there has been one constant in her leadership," King said. "She is focused on the human element – on the people who are most in need of what foundations and nonprofits provide.
The Board has made such a wise choice for the Foundation's and Pittsburgh's future," he said, "and having a woman in the position is long overdue."
In the next several months, Schroeder will be closing out her tenure at Parks & People and making visits to the Foundation to begin the orientation process. She begins full time in June.
Schroeder's appointment concludes an eight-month national search by the seven-member Search Committee co-chaired by Board chair Dr. Shapira, a retired Pittsburgh psychiatrist; and Board Secretary and Governance Committee Chair Dr. Walter Smith, retired clinical director of the Allegheny County Department of Human Services.
The other members are Board Vice Chair and Development Committee Chair John Harmon of the law firm Lovett Bookman Harmon Marks LLP; Program Committee Chair Dr. E.J. Donnelly, retired internist with the University of Pittsburgh Medical Center; Treasurer Kim Fleming, chairman and CEO of the financial management firm Hefren-Tillotson; Investment Committee Chair Lee B. Foster II, chairman of the rail and construction products distributor L.B. Foster Co.; and Program Committee member William Strickland, executive chairman of Manchester Bidwell Corp.
The group was assisted by Karen Wilcox, Chloë Kanas and Rebecca Swartz of Boston-based Isaacson, Miller, a national search firm. The process included the vetting of more than 100 candidates who were recruited, or who applied in response to the position posting. The pool was narrowed in the fall for candidate interviews and finalists were selected for further discussion and interviews.
Dr. Shapira said Committee members were impressed with the quality and diversity of the applicant pool, and gratified that the position generated so much interest. "Aside from regular oversight, we consider the hiring of a president to be among the most important of Board duties," she said. "We see every day how the effectiveness of an organization, especially a philanthropic organization with such potential to do good, depends on the character and ability of the person who leads it. Under Lisa's leadership, we believe the Foundation's best years are ahead."
More about Lisa Schroeder
Lisa Schroeder's resume
Riverlife President & CEO Lisa Schroeder Looks Back on 15 Years of Development [WESA-FM, Dec. 10, 2014]
Riverlife executive to leave Pittsburgh for Baltimore [Pittsburgh Post-Gazette, Dec. 2, 2014]
Riverlife: behind our very walkable, bikeable, lovable waterfront [Next Pittsburgh, Sept. 1, 2014]
A Vision for the Rivers [Pittsburgh Magazine, March 24, 2014]
Lisa Schroeder Named 2012 Gold Medal Recipient [AIA Pittsburgh, July 25, 2012]

MEDIA CONTACT
Douglas Root
Vice President of Communications
412-394-2647
rootd@pghfdn.org