In this pivotal moment, we will not be silent.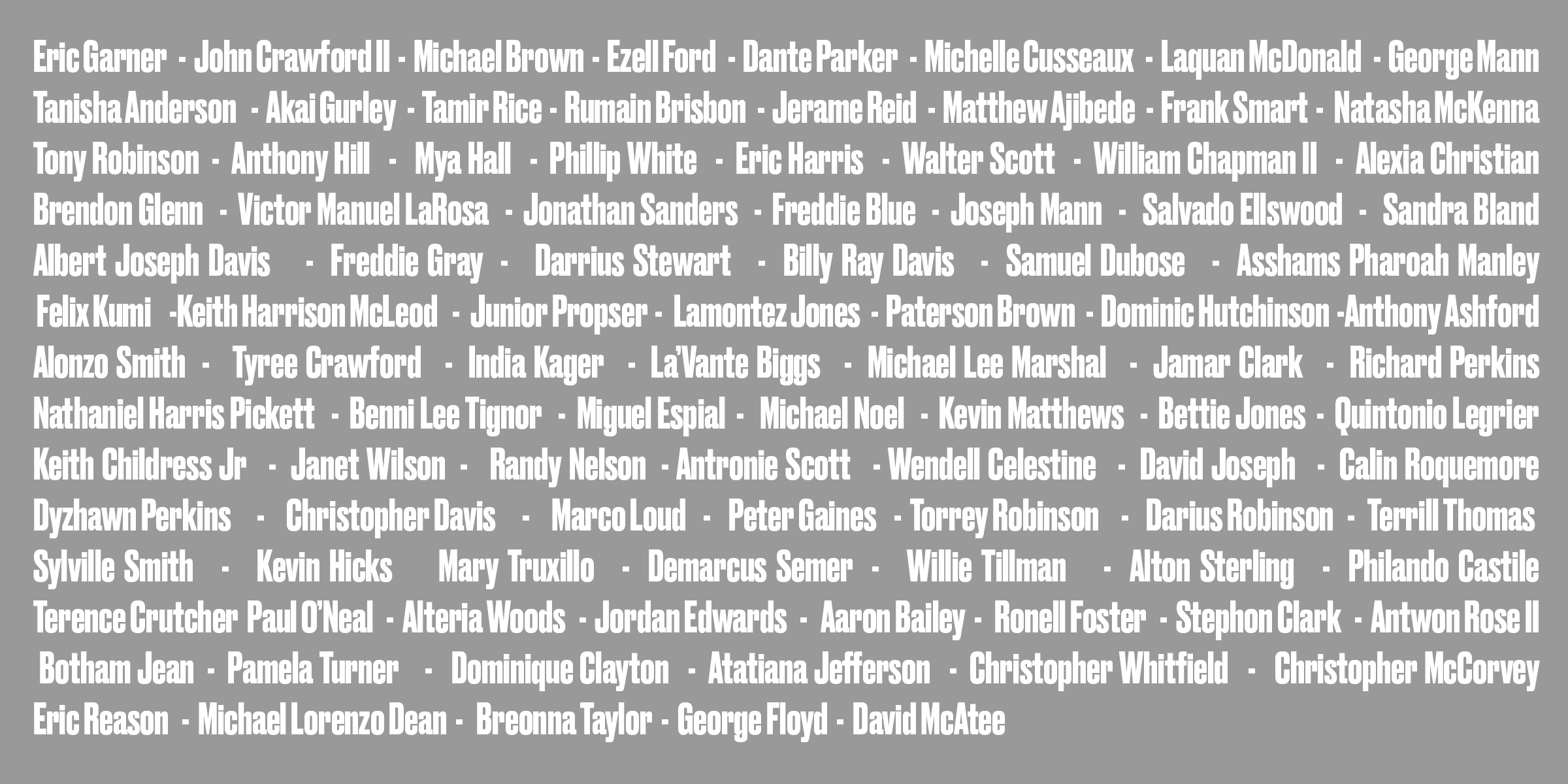 Over the past two weeks many of us have been checking in with one another about how we're doing. The consensus is that we are NOT O.K. We are Sad. Angry. Enraged. Anxious. Afraid.
Afraid for ourselves. Afraid for our children, our partners, our families and our friends. And we are TIRED – utterly exhausted.
Too many Black lives have been taken from us by racist violence – police brutality being just one form of it. Literally thousands of Black people have been killed. Many of their deaths were never filmed, nor were they considered sensational enough to be reported by national news outlets or social media. Many never got a "#Justicefor…" hashtag. Many of these murders were never prosecuted. Of those that were, most did not result in guilty verdicts.
There have been so many of these that it is hard to imagine our loved ones ever being safe in this country. It doesn't matter how many times we give our children "the talk," or how carefully we plan our routes to and from home. As we have learned over and over again, there is very little we can do while being Black that will keep us safe from racism:
You can't drive while Black.
You can't jog while Black.
You can't shop in a store while Black.
You can't chill in your grandma's backyard while Black.
You can't walk home wearing a hoodie while Black.
You can't stand in front of a window in your own home while Black.
You can't go to church while Black.
You can't even catch COVID-19 while Black. (The virus has killed Black people at astonishingly high disproportionality in cities across the country.)
WE ARE TIRED. We are tired of all the tragic, untimely deaths of Black people and all the days between each one when we have to navigate the unwelcome reminders of the utter devaluing of Black life – report-after-gender-equity-report, racist-policy-after-racist-policy, inaction-after-inaction.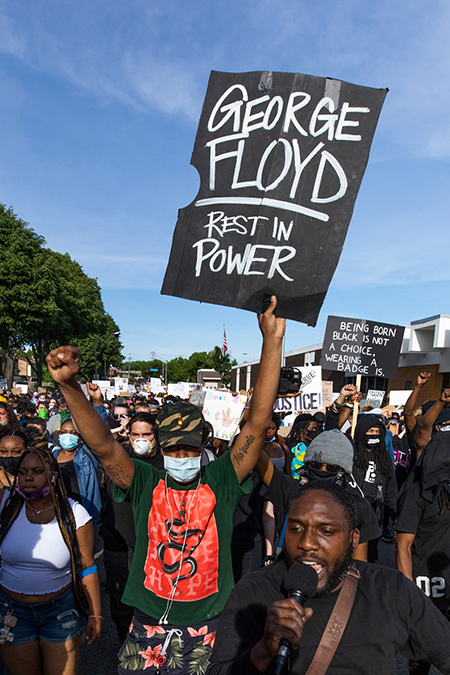 We recognize the desire for conversation about what has transpired over the past two weeks. However, some of us are not ready to talk, especially at work. Some of us are too fatigued to have yet another discussion about the loss of Black life without the realization of real change."
At the same time, we can't be silent. There is too much silence already about racism. We cannot be a part of that. Too many people have died because of racism – so many, in fact, that it is easy to forget their names. But we must never forget; we must remember. Since 2014, thousands have been the victims of police violence. Here, we pause to remember the names of those who are known. We list their names to honor their lives*:
Eric Garner
John Crawford II
Michael Brown
Ezell Ford
Dante Parker
Michelle Cusseaux
Laquan McDonald
George Mann
Tanisha Anderson
Akai Gurley
Tamir Rice
Rumain Brisbon
Jerame Reid
Matthew Ajibede
Frank Smart
Natasha McKenna
Tony Robinson
Anthony Hill
Mya Hall
Phillip White
Eric Harris
Walter Scott
William Chapman II
Alexia Christian
Brendon Glenn
Victor Manuel LaRosa
Jonathan Sanders
Freddie Blue
Joseph Mann
Salvado Ellswood
Sandra Bland
Albert Joseph Davis
Freddie Gray
Darrius Stewart
Billy Ray Davis
Samuel Dubose
Asshams Pharoah Manley
Felix Kumi
Keith Harrison McLeod
Junior Propser
Lamontez Jones
Paterson Brown
Dominic Hutchinson
Anthony Ashford
Alonzo Smith
Tyree Crawford
India Kager
La'Vante Biggs
Michael Lee Marshal
Jamar Clark
Richard Perkins
Nathaniel Harris Pickett
Benni Lee Tignor
Miguel Espinal
Michael Noel
Kevin Matthews
Bettie Jones
Quintonio Legrier
Keith Childress Jr
Janet Wilson
Randy Nelson
Antronie Scott
Wendell Celestine
David Joseph
Calin Roquemore
Dyzhawn Perkins
Christopher Davis
Marco Loud
Peter Gaines
Torrey Robinson
Darius Robinson
Terrill Thomas
Sylville Smith
Kevin Hicks
Mary Truxillo
Demarcus Semer
Willie Tillman
Alton Sterling
Philando Castile
Terence Crutcher
Paul O'Neal
Alteria Woods
Jordan Edwards
Aaron Bailey
Ronell Foster
Stephon Clark
Antwon Rose II
Botham Jean
Pamela Turner
Dominique Clayton
Atatiana Jefferson
Christopher Whitfield
Christopher McCorvey
Eric Reason
Michael Lorenzo Dean
Breonna Taylor
George Floyd
David McAtee
This list represents just a fraction of those killed by police. These tragic losses are made even more devastating by the reality that there have been too many Black lives taken by racist citizens.
From the murder of Trayvon Martin in Sanford, Florida in 2012 to the nine worshippers killed at Mother Emanuel AME Church in Charleston, South Carolina in 2015, we remember their names: Rev. Clementa Pickney, Cynthia Hurd, Rev. Sharonda Coleman-Singleton, Tywanza Sanders, Ethel Lee Lance, Susie Jackson, Depayne Middleton-Doctor, Rev. Daniel Simmons and Myra Thompson.
More recently, we watched the video of Ahmaud Arbery who was jogging on Feb. 23 when he was confronted by three white men who were eventually charged with his murder.
The killings are compounded by the fact that Black lives have been repeatedly put in danger by white citizens who describe themselves as "not racist," but nonetheless have called police on Black people for doing any number of regular, everyday things just because they were Black – babysitting, swimming, selling water, working as a delivery driver, daring to ask a woman to leash her dog as required in a public park, and sometimes for literally doing nothing at all.
These centuries old, unending attacks on Black life and Black freedom are the source of all of the hurt and anger and pain that has been on such powerful display over the past week, and in recent years. We thank the countless organizers and activists on the front lines who are amplifying messages against racism and police brutality and demanding systemic change. We stand with you.
These seemingly never-ending injustices are why we continue to scream "BLACK LIVES MATTER." This is why we refuse to be silent. We know that despite the continuous refusal of our neighbors, community leaders and politicians to hear our cries and act with urgency, Black lives actually do matter.Our lives matter. We matter.
We believe that the time for talking is over. It is long past time that we collectively and unapologetically DO the work of racial justice in our homes, in our communities, in our workplaces and in our philanthropy. That begins with increasing funding for Black and Brown-led organizations and supporting grassroots movements with our dollars and our voices. Anything less is a willful act of forgetting the lives that have been taken from us, and of neglecting our responsibility to protect those who, without our action, will be added to this list in the days ahead.
Pittsburgh Foundation Staff Members:
Tika Good
Charmelle Jackson
Taleesha Johnson
Jamillia Kamara
Danitra Mason
Michelle McMurray
Cheryl Poston
Celeste Smith
Mahogany Thaxton
*list as of June 8, 2020
Note: The names of victims are published on various platforms, including The Washington Post, which maintains this database to track police shootings and reports that 1,252 Black people have died in police shootings since Jan. 1, 2015. The Washington Post's database does not include those killed by other methods or who died in police custody. NPR's Code Switch also maintains a list of those who have been killed.
Photo above (in text): Protests continued in Pittsburgh's East Liberty Neighborhood on June 1. (Photo by Joshua Franzos)
---
Related information: