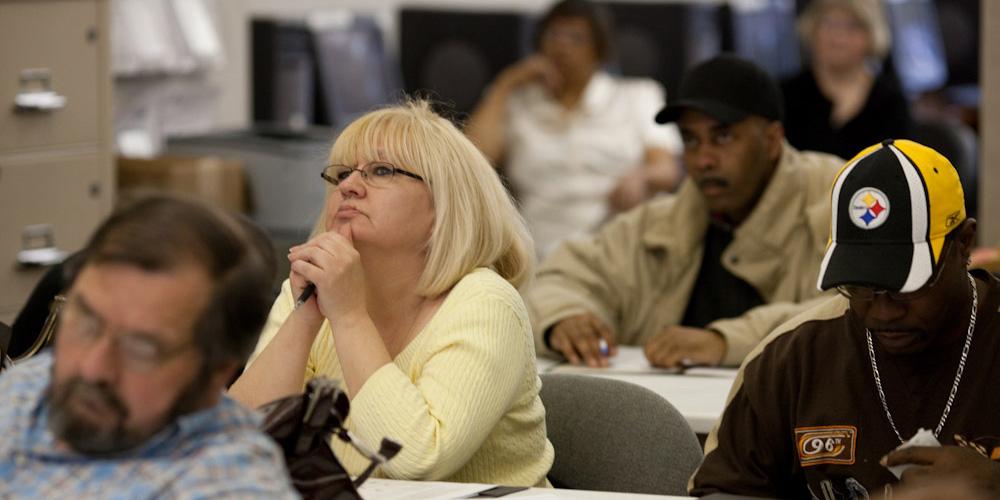 In this area, we seek to support youth and adults who experience significant barriers to employment, including limited math and reading skills. This includes support for programs that prioritize the employment needs of individuals who are low-income, have a disability, are formally incarcerated, experience housing insecurity, in or aging out of foster care, and single parents. These needs are complex and not easily resolved by one agency alone.
We are specifically interested in services and activities that:
Offer comprehensive assistance for adults and include interest and skill assessments, soft- and hard-skill development, employer and human service partnerships, job placement with wages of at least $13.00 an hour and at least six-month follow up.
Align with career pipeline programs and local industry partnership strategies targeting technology, health care, financial services, advanced manufacturing and construction activities.
Provide age-appropriate youth programs that include life and social skills training, career exploration or career planning with work-based learning such as employer visits, job shadowing, adult career mentoring, internships, summer youth employment, occupational skills training, pre-apprenticeships, industry recognized credentialing and employment in targeted industries.
Seek to identify and implement best practice/innovative strategies that support single parents, people with justice system involvement and people in recovery. 
---
GRANT CYCLE
APPLICATION DEADLINES
Spring grant cycle
March 24, 2023 by noon
(for funding decision by June 14)
Fall grant cycle
July 18, 2023 by 5 p.m.
(for funding decision by Nov. 1)
 

CONTACT: 

Jane Downing

Senior Program Officer, Economic and Community Development


downingj

[at]

pghfdn.org

 
Back to Basic Needs main page.
Learn more about about grantmaking related to Basic Needs: