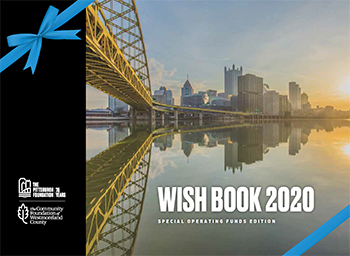 The Wish Book is a soft-cover, printed book that is mailed to our donor community every November. Donors may use their donor-advised fund to make grant requests to fulfill the "wishes" on a rolling basis between November and March. In 2020, our donors made donations totaling $699,729 to 100 Wish Book organizations. 
Are you a Pittsburgh Foundation fund holder? 
The 2021 Wish Book will be mailed to fund holders to arrive just before Thanksgiving. Foundation donors who have a donor-advised fund may make online grant requests to fulfill the wishes. 
Are you a nonprofit organization seeking funding?
The next Wish Book application period opens in summer 2021. Please take a look at the Wish Book FAQs for eligibility criteria.

If you have any questions about Wish Book, please contact Taren Lumley at  412-394-2622  or lumleyt [at] pghfdn.org.