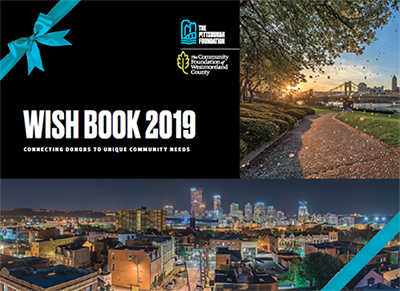 The Wish Book is a soft-cover, printed book that is mailed to our donor community every November. Donors may use their donor-advised fund to make grant requests to fulfill the "wishes" on a rolling basis between November and March. In 2019, our donors made donations totaling $317,000 to 75 Wish Book organizations.
Are you a Pittsburgh Foundation fund holder?
The 2019 Wish Books campaign is closed, with donations exceeding requests by $123,000! Thank you to our donors who used their donor-advised funds to make online grant requests to fulfill the wishes. 
Are you a nonprofit organization seeking funding?
The next Wish Book application period opens July 13. Please take a look at the Wish Book FAQs for eligibility criteria (new for 2020).
Application opens July 13, 2020. Deadline is Aug. 16, 2020.

      

If you have any questions about Wish Book, please contact Taren Lumley at  412-394-2622  or lumleyt [at] pghfdn.org.