Regina Beatty

Mosaic Wealth Consulting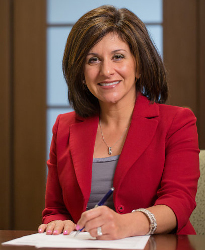 Regina Beatty grew up in the financial services industry, her father had an insurance practice, and she has twenty plus years of experience as a Private Wealth Advisor, assisting her clients every step of the way in their financial planning with Mosaic Wealth Consulting. "I have what I consider a holistic approach to financial planning, getting to know my clients and their goals intimately," said Ms. Beatty. "Together, we determine what their specific financial needs are, then how to properly pass their assets to their children, and finally, how to make a difference and provide for the community by appealing to their charitable aspirations."
The result is a totally coordinated plan that involves an individual's or family's attorney, accountant as well as expertise that Ms. Beatty is able to draw upon for specific financial needs from experts across the country.
Ms. Beatty is a connector and a convener both in her practice and the community at-large. She approached The Community Foundation of Westmoreland County (CFWC) several years ago to host educational events that could serve her clients and CFWC's constituents, serving as one of the speakers.
"Often multi-generational planning has a charitable component to it," said Ms. Beatty. She has worked with CFWC to help her clients develop creative giving opportunities that both fulfill their philanthropic aspirations and protect their charitable assets.
She recently partnered with CFWC on a special case involving a couple in their seventies who have an adult son with a special health condition. "Their primary concern as they age is that their son will be taken care of and will be able to thrive," said Ms. Beatty.
"A donor advised fund allows the son to support nonprofit organizations that hold special meaning to him and CFWC knows all of the resources in the community that can benefit him as well. It was a great fit."
Ms. Beatty is also dedicated to making her community a better place, giving of her time and skills as a Rotarian, a Big Sister and a member of the Women's Leadership Council, as well as serving on the Board of Directors for the Westmoreland Symphony Orchestra and Greensburg Community Development Corporation.
"If you make it hard to give money away, then it doesn't get done," said Ms. Beatty. "By working together and learning the needs of the client and the community, we can make it easier to respond and give where it is needed, while giving the client sense of security knowing a plan is in place to maintain their standard of living and be charitable at the same time."
Regina Beatty is a registered representative of Lincoln Financial Advisors Corp. Securities and advisory services offered through Lincoln Financial Advisors Corp., a broker/dealer (Member SIPC) and registered investment advisor. Insurance offered through Lincoln affiliates and other fine companies. Mosaic Consulting is not an affiliate of Lincoln Financial Advisors Corp. CRN-974694-072414