Scott Oehrle

Marbury Wealth Management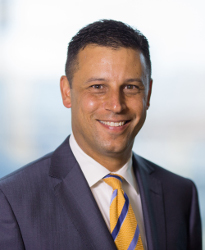 Scott Oehrle became acquainted with The Pittsburgh Foundation about halfway through his 25-year wealth management career. Then at Arthur Andersen, he helped clients set up donor-advised funds and liked the Foundation's flexibility, its focus on Pittsburgh and the staff's breadth of knowledge. In 2000, Mr. Oehrle founded Marbury Wealth Management, and since then he's become increasingly involved with the Foundation. "They've done a lot more outreach to advisors," Mr. Oehrle said. "And I've gained a greater understanding how they work, how they can benefit a family, and the ease with which they administer things."
It's been a good fit with his clients and with his own family. Mr. Oehrle and his wife Maureen are very charitably inclined, and they're big believers in the Pittsburgh Community. So are his parents, and Mr. Oehrle recommended they consider setting up a family fund at the Foundation. In 2012, Dr. John and Lee Oehrle did just that.
"My parents had been giving in a seat-of-the-pants manner. I recommended they sit down with The Pittsburgh Foundation to understand the possibilities and maybe be a little more strategic in their charitable investments. I thought the Foundation could help them become more effective by being more focused. They're in the infancy of it; they've set up the administration, and by the end of the year, they'll focus on how they can make a bigger impact in their giving."
As his involvement grew, Mr. Oehrle joined the Foundation's Professional Advisory Committee, a group of attorneys, CPAs and financial advisors which meets biannually. The Foundation informs them what it's doing internally and externally, and committee members give feedback on what their clients might like to see.
He's also in an initial class of a dozen people who are earning a new professional designation—Chartered Advisor for Philanthropy. The process involves taking three exams, and, as Mr. Oehrle said, "The upshot is that it helps you work with your clients more on a "why" instead of a "how" basis. It's more qualitative than quantitative. What legacy do you want to leave? Are there certain charitable areas that interest you? Do you want to start during your lifetime? Do you want family to work together?
"For my clients who have gotten involved with the Foundation, it's been all positive—from the ease of establishing a fund and the administration to the more generous choices of investment strategy, which have really blossomed over the past five years. And the Foundation has great expertise to help people with their charitable giving. Through the Day of Giving, the Foundation has built a substantial data base about nonprofits that's really a great resource."
For Mr. Oehrle, it all amounts to a philosophy of giving back. "It's been rewarding to be involved. I'm in the service business, and you're always trying to help people— help them make money, save money and do the right thing with their money. And sometimes that involves helping those who may be less fortunate. I'm involved with The Pittsburgh Foundation because I believe in it and because it helps people."