Karen and Peter Greb

Merrill Lynch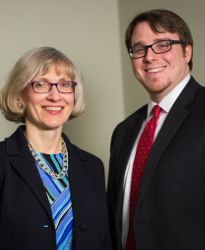 Over the past 20 years, Karen Greb has become very familiar with The Pittsburgh Foundation's efforts and abilities to help build philanthropy in southwestern Pennsylvania. As senior vice president for wealth management at Merrill Lynch, she has referred five charitable-minded clients to the Foundation who have set up their own donor advised funds. And the experience worked out so well for them that, three years ago, she and her family set up their own fund.
"If you want to be charitable in Pittsburgh, [The Pittsburgh Foundation staff] are the go-to people," Karen said. "They really introduce you to the region's charitable organizations. They let you know what the organizations do and what their missions are. The Foundation has just been a huge, great resource to me and also to our clients. For the clients, it's been a very enjoyable experience."
For Karen and her family, getting involved with the Foundation has been a satisfying and fascinating experience. The goal for Karen and husband, James, a retired paramedic, was to include their son, Peter. Working together is something they've been doing for a long time. When Peter was young, Karen would often bring him along with James on out-of-town client trips. And after school, Peter would spend time at the Merrill Lynch office. He grew up understanding the business and wanting to be part of it. Now 27, Peter is following his mother's career path, working for the past two years in her section at Merrill Lynch.
Now, the Greb family has followed the path of many of their clients by starting a fund at the Foundation. Early in that process, Karen, James, and Peter attended a special meeting at the Foundation that involved breakout sessions dealing with generational differences in approaching philanthropy. They learned that young people who experience the same significant world-changing events as their parents react differently and carry lasting impressions that affect how they manage personal finances and their choices in charitable giving.
"It was really an eye-opening experience for us to go through that session," Karen said. "It helped us even more to figure out how we wanted to work together and find common ground."
Family consensus on giving is the main goal they all share in working through their fund.
"James and Peter and I each have our own ideas of what charities we'd like to get involved with. But we're searching for something the three of us can come together on. A family with unity of purpose can be very powerful. We hope to get to the point where the three of us can say, 'Yes, let's pick that one thing.' "As it is, we can go to the Foundation and tell [Philanthropic Relations Officer] Hilary Brown what we're interested in, and she'll come up with a list of organizations in that field, detailing what projects they've been involved with, who's on their board—enough information to make a decision on whether to donate to that particular organization."
For Karen, seeing the different ideas and approaches her son Peter—based on his own life experiences—has brought back a key memory from her childhood. "My mother would always tell me, 'You'll learn as much from your children as they will learn from you.' And that's what makes this so much fun—working together to find that common ground with our family's donor-advised fund. It's a great thing. "We'd like to see more families engage in this way. I believe each generation has an obligation to help the next generation to be the best it can be—with the understanding that their sense of 'best' won't necessarily be the same as yours—because the world keeps changing. But the underlying principles can remain the same."