Todd Turin

Turin & DeMatt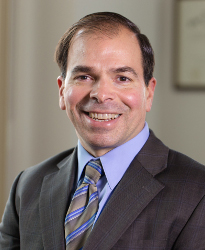 Todd Turin graduated from Greensburg Salem High School and St. Vincent College. He then left the area for law school. But after three years in Ohio, he quickly became nostalgic for Greensburg, Pennsylvania: "I very much wanted to return," he remembers. "Why? I truly believe it is the people. The sense of community is, and always has been, important to me. As a lifer, I'm reminded of the scene in 'Cheers' when Norm walks into the bar. Everybody knows your name. That's the way Greensburg is, and that makes it special for me and my family."
Mr. Turin is a partner of Turin & DeMatt in Greensburg. He discovered The Community Foundation of Westmoreland County (CFWC) through his work with the Big Brothers/Big Sisters of the Laurel Region. Mr. Turin helped the organization start an endowment fund with CFWC.
As CFWC has grown, so has Mr. Turin's relationship with the organization. Mr. Turin helps his clients establish scholarship and donor advised funds at CFWC as a way to memorialize a loved one or support a charitable cause. Part of Mr. Turin's love for Greensburg is the small-town decency of its people. He tells the story of a legal contest involving two heirs of a sizable estate.
"It had become very litigious, with little or no hope of resolution," remembers Mr. Turin. One day, Mr. Turin's client admitted that the money itself wasn't important to her.
"At that point, a light bulb went on in my head. I suggested establishing a scholarship fund at CFWC. Both sides agreed and now there is a scholarship fund established in our community in honor of that decedent. These monies will be used to further the education and vocations of many individuals over many years. What a great way to pay tribute to a loved one!"
While Westmoreland County has radically transformed since Mr. Turin was a child, he believes that CFWC is an essential part of the region's future.
"My vision is to make Westmoreland County a little bit better place to live than when I arrived," he said, "and if each of us acts on our ideas to make our community a better place to live, then I believe future generations will continue talking about the area as a great destination. CFWC can help make sure those ideas become a reality."